Another exciting dining experience is coming soon to the fabulous food line-up in Preston Hollow Village — say hola to Mesero.
A Dallas-favorite for upscale Mexican fare, Mesero is a welcomed addition to the neighborhood and a spot you won't want to miss tasting when they open their doors in a few short months.
Serving up classic margaritas along with a wide assortment of gourmet tacos, unique principale dishes, fresh enchiladas and more, Mesero takes TexMex to the next level in Preston Hollow Village.
Here are all the spicy details to get your tastebuds excited:
Homemade Chips and Signature Dips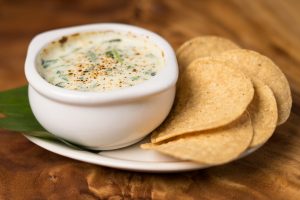 Most Mexican-influenced restaurants serve chips, but none do it quite so deliciously as Mesero. Known for their fresh tortilla chips made in-house and signature dips like Queso Mesero, Queso Tejano, and Aguacates "Guacamole."
If you think these are your average Mexican dips — think again. The fan-favorite, Queso Mesero, is loaded with authentic queso chihuahua, spinach, artichoke, poblano adiciones (peppers), and either brisket or chorizo.
With each dip of your chip, you will taste bright, mouth-watering flavors that make for the perfect precursor to your meal.
Sticking to Authenticity
Keeping true to its "Mexican Spirit, American Life" motto, Mesero has crafted a menu that includes American influences while also sticking closely to authentic Mexican food and flavors. It's the best of both worlds — or shall we say foods!
Fully embracing and accurately representing Mexican food culture, most of the dishes carry Spanish titles. This highlights how Mesero cares about paying deserving homage to the culture that designed these delicious foods we love. On this thriving menu, you can find a section of Caldos, which is Spanish for broths and is a selection of traditional soups that will warm your soul. You will also find a large Los Tacos section with asada, pollo, carnitas, fish a la playa, and camarón … to name just a few.
The gems of this menu fall under Principales — which is a large selection of dishes that let you dive into genuine Mexican traditions when it comes to food. This includes plates such as Filet A La Mesero, El "Miguelito," and Salmon A La Plancha. To explore what else you can taste at this location, check out their menu here.
A Bunch of Brunch
With a truly incredible brunch menu, this trendy meal deserves its own spotlight as we explore the wonders of Mesero in Preston Hollow Village.
Truly incorporating American influences with Mexican flavors, Mesero's brunch takes a fun spin on this breakfast-brunch concept.
With items like French Toast, Huevos Mesero, Avocado Toast, and Chilaquiles on the menu — among other traditional egg combinations — your whole brunching party can eat whatever they wish at this restaurant.
Drinks for Days
Something both cultural influences have in common is their love of a delicious drink, especially after a long week — and Mesero is here to serve.
What specifically stands out at this fun spot is their personalized cocktail list. While it contains all the staples like sangrias, whiskeys, martinis, and frozés, there's also fun concoctions that are only home to Mesero. Some Dallas local favorites are T-N-T, Fresa Fuego, Berry Street, Jalapiña, and Mr. Trey. If none of those spark your interest, don't worry, this list goes on.
Mesero also serves chilled wines, bold reds, and cold beer for whatever your craving.
The True Spice
If you've been searching for a spot to enjoy both traditional American and Mexican flavors in one dish, then Mesero in Preston Hollow Village is your place.
With an upscale yet warm environment, you'll feel like you are treating yourself to a much deserved, relaxing, and taste-full experience.
Check back with our blog to learn more about the exciting restaurants and shops in Preston Hollow Village and stay tuned for future new establishments joining the community!